Name of home arena: O2 Arena Praha
Built: 2004
Address: Českomoravská 2345/17, 190 00 Praha 9, Czech Republic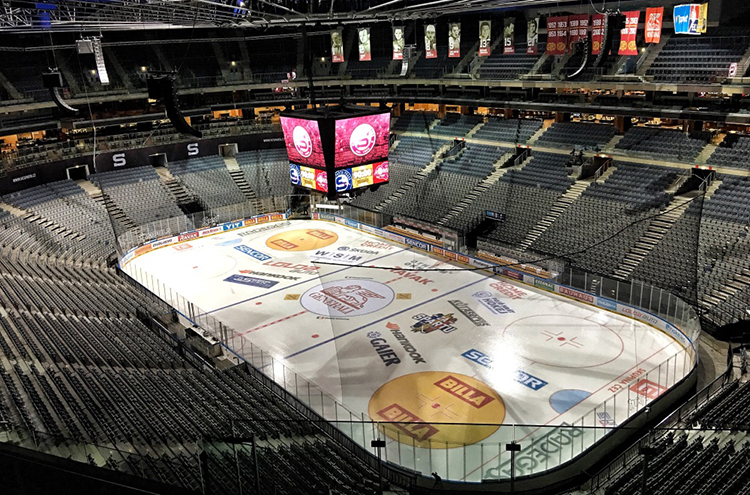 Arena attendance capacity: 17 037
Avg. attendance 2016-17 (regular season): 8032
The O2 arena is one of the leading facilities in Europe with a seating capacity up to 18,000. Every year, the O2 Arena hosts dozens of attractive sporting and cultural events. It was opened in 2004 for the ice-hockey championship and since then has welcomed over 600,000 people every year. The O2 arena is located in north-eastern Prague, approximately 10 km from the city centre. It occupies an advantageous position between the interior road ring, which provides comfortable transportation from other sections of the city, and the external ring road, which allows a quick connection to the outgoing motorway and the international highway network.
The O2 Arena offers more than forty spatial, functional or technical variations of the stage surface and the auditorium. At a large rock concert, the O2 arena can host up to 18,000 spectators. The latest technology available at the O2 Arena include, e.g., a giant video cube, internal TV circuit, display facades, its own TV studio, sliding stands, excellent acoustics, light park and advanced telecommunication equipment. In addition to the standard auditorium, the O2 arena offers non public floors for skybox and club seat tenants. It also features business areas with necessary facilities, a number of lounges, restaurants and bars along with seminar facilities, press conference rooms and congress halls.
Basic info
Founded
1903
Website
www.hcsparta.cz
Club adress
HC Sparta Praha a.s.
TIPSPORT ARENA
Za Elektrárnou 419
170 00 Praha 7, Czech Republic

Honours
National titles
(8) 1953, 1954, 1990, 1993, 2000, 2002, 2006 and 2007
European championships or greatest European accomplishments
Spengler Cup 1st place 1962 and 1963, Spengler Cup 2nd place 2004, European league 2nd place 2000, Champions Hockey League 2nd place 2016/2017
Last Seasons
2016-17: 3rd regular season, Quarter-final, CHL Final.
2015-16: 2nd regular season, Final, CHL 1/8-Final
2014-15: 4th regular season, Semi-final, CHL 1/8-Final
2013-14: 1st regular season, Semi-final
2012-13: 5th regular season, Quarter-final
About club
The Sparta Praha hockey club is one of the most successful and famous clubs in Czechoslovakian and later Czech ice hockey history. There is not many sports clubs in Czech republic whose history reached so far as history of the Prague ice hockey club SPARTA.
Sparta's great successes were reached in the years following World War II as it won two national titles in a row - 1952/54 and 1953/54 - under the name Spartak Sokolovo. The next highly successful period came much more recently, when Sparta won the national league in 1989/90 and in 1992/93. Another recent achievement (along with two third place finishes in 1995/96 and 1996/97) was Sparta's participation in the final group of the European League (EHL) in 1996/97.
After a few years of bad luck and less success, Sparta returned to the top of the Czech Extraliga in 1999/00 when they were crowned league champions. That victory was the first of four championships they would win over seven seasons, adding Extraliga titles in 2002, 2006 and 2007. In addition to those achievements, Sparta managed to be part of the Top Four in the European League (EHL) again in 1999/2000 and achieved the greatest result in Czech hockey history: second place.
HC Sparta Praha has regularly been one of the best teams in the Czech Extraliga, making the playoffs almost every year. In 2013/2014 Sparta won regular season with 110 points and earned bronze medal in the playoffs. HC Sparta Praha's home games are played at O2 Arena since season 2015/2016. Sparta broke several club records and ended in the regular season 2015/2016 on the second place with 110 points. Team led by coach Josef Jandač defeated Zlín with Plzeň and reached to the final of the Česká pojišťovna playoff, where lost with Liberec 2-4 on games. In the 2016/2017 season Sparta ended 2nd in the Champions Hockey League and reached one of the biggest successes in the modern history of the club.