Name of home arena: SkyDome Arena
Built: 1999
Address: Croft Rd Coventry CV1 3AZ, England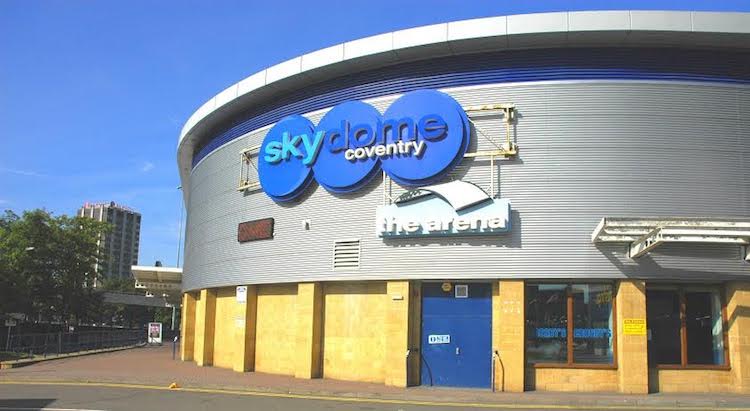 Arena attendance capacity: 3000 (2,200 seats)
Avg. attendance 2016-17 (regular season): 2,304
The Skydome Arena (built in 1999) is a 3,000 capacity (2,200 seats) multi-purpose arena in the city centre of Coventry. The ice rink is part of a multi-plex of entertainment venues such as Crosby's bar, The Spon Gate Wetherspoons, Harvester bar and restaurant, Odeon cinema, our title sponsor Genting Casino and PureGym.In addition to Coventry Blaze matches and training, the ice rink is used for public ice skating sessions and lessons. The Blaze junior academy also make use of the facility, as do other ice hockey teams playing at various levels. The town centre featuring a wide range of high street shops, stores and restaurants is within a couple of minutes' walk from the arena.
Basic info
Founded
2000
Website
www.coventryblaze.co.uk
Club adress
Coventry Blaze Ice Hockey Club
Skydome Arena
Croft Road
Coventry
CV1 3AZ
Honours
National titles
(4) 2004/05, 2006/07, 2007/08, 2009/10
European championships or greatest European accomplishments
none
Last Seasons
2016-17: 9th regular season
2015-16: 8th regular season, play-off finalist, Continental Cup first round
2014-15: 6th regular season, play-off champion
2013-14: 6th regular season, quarter-finals
2012-13: 4th regular season, semi-finals
About club
The Coventry Blaze are based in the West Midlands of Great Britain. The club competes in the Elite Ice Hockey League (EIHL), the UK's premier top-flight ice hockey league. Four-time winners of the championship, the Blaze have also won the playoffs and Challenge Cup twice each, including a grand slam of trophies in 2004/05.
The Blaze have represented the UK on four occasions in the Continental Cup. The club's most famous players include the late Wade Belak, Matt Beleskey currently of the Boston Bruins, and the jerseys of #25 Adam Calder, #26 Dan Carlson, #12 Steve Chartrand and #17 Russell Cowley have been retired for outstanding contribution to the organisation.